Bin Compactor
Bin compactors are suitable for both indoor and outdoor use. Waste volume in bins are reduced by 3 bins to 1 bin ! Waste disposal costs are reduced by up to 66% ! They are mostly used by schools, fast food chains , restaurants , hotels , shopping malls , commercial buildings , residential estates and more .
Provide an Efficient Waste Management System at the Highest Level !
Bin compactor can be used on general waste and recycling bins. It not only can reduce waste collection costs , but also reduce the number of bins in the bin storage , garbage room, waste collection points , loading / unloading dock before collection . It helps to free up space and tidy the place up . You will find the bin compactor pays for itself in a short time !
Compact 3 bins into 1—maximize the amount of waste get into a bin; reduce the number of bins ; create a more spacious working environment .
Safe, User Friendly & Reliable—push in bin & push button, where bin wheels are protected from damages .
Reduce Collection Cost and trips—save money on daily/weekly waste disposal costs ; hence reduce carbon footprint .
All Sizes of Standard Bins–suitable for 240 , 360 , 660 and 1100L wheelie bins .
Weighting System—optional weighing system allows user to record weight of the bin .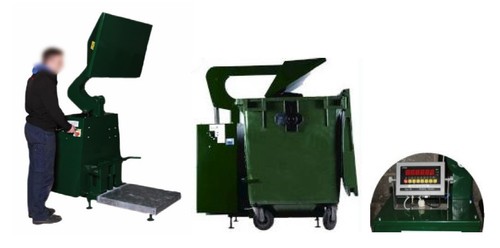 Weighing System